I'm in the process of moving to Cambridge, MA and was in dire need of a special tool used to take apart IKEA furniture, in particular the Malm style IKEA bed frame.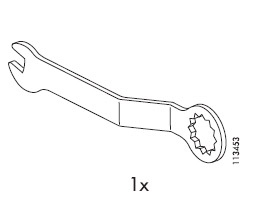 My brother, the IKEA furniture assembly master specifically said, "Do not lose this tool, we will need it when you want to move again." Alas, I think it got packed somewhere. So we needed a replacement or substitute.
The first trick was finding what the tool was called, because it is not a standard hand tool. It apparently this Z-shaped tool does not have a name, but instead a number, which is 113453.
There isn't much info on the web about the tool, original IKEA tool, but something that is repeated is that 113453 is shaped specifically to make assembly of IKEA furniture and thus no alternative or substitute tool works as well.
Alternative to IKEA's 113453 Z-Shaped Wrench
The good news is that the 113453 IKEA wrench used to assemble and disassemble the Malm Bed frame is actually a 13mm wrench. That's right, the tool is a metric 13 milimeter wrench. You can go down to your local hardware store and pick up just this wrench and use it to take apart IKEA stuff.
That's about it. Sometimes having the right tool (or substitute) is all you need to get the job done.
Hopefully this post saved you some time and money. Feel free to post a reply if it did!