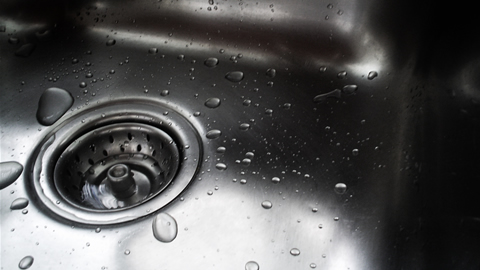 My Badger 5 Plus garbage disposal seized up a few weeks ago after some mango peels made their way down into the drain. The disposal simply made this humming noise when it was on.  It sounded like the motor was going but the blades were not turning.
At first, I was ambivalent.  "Maybe it will fix itself" I thought.  But it didn't.  And then the sink stopped draining.  So, I did the horror-movie thing and reached down into the bog of coffee grounds, lettuce and bloated cereal flakes to check if the blades were moving.
Apparently, you're supposed to use a broom handle to do this, but that doesn't get the same adrenaline rush of wondering if a freak accident will cause the fingers on your right hand to be appropriately diced up.
The blades did move  freely down there, so I sort of just shifted the food particles around and the water drained a little less slowly, but no less disgustingly from my sink.  And then mid-terms hit so I didn't do anything about it for a few weeks.  I tried it again at one point and noticed that even the hum of the motor had gone away.  The problem with the disposal had progressed to the death of the machine.
This morning I emptied out some old rice milk, (who knew rice milk could congeal?) and headed to the grocery.  On my return, I found the rice milk peices still floating in my sink and decided enough was enough, it was time for action.
I put my serious game face on and googled until I found people with my same problem.  This guy Ryan at the Daily Ping had a post with a ton of responses that were similar to my situation.  I distilled a lot of posts down to the following steps to troubleshoot and fix the Badger 5 Garbage Disposal when it stops working for you:
When you flip the switch, does it hum?

If it doesn't hum:

Check is it plugged in?
If it is plugged in, feel around on the bottom of the disposal for the reset button.  More info on that button here.
Hit the button and test it again.  Humming now?

If it hums:

Are the blades moving freely?

If not, use a broom handle or a long wooden spoon to try and spin the blades.
You can also try sticking your hand down there, but you are risking your career as a hand model. (Turn off your circuit breaker for safety!)

If they are spinning freely when you touch them, but they won't engage when you turn the disposal on::

Go to your local hardware store and buy a 1/4 inch sized Allen wrench also called a Hex key or Hex tool.  It is an L-shaped, six sided tool.  These usually come in a small set for about $4.
Look under the disposal for a mysterious hole at the center.  Place the short end of the hex tool into this hole and rotate it around a few times, back and forth.  If you have a small bog of eternal stench in your sink like I did, and you're lucky, you should see/hear the water immediatly drain.
Remove the hex wrench and Try the switch again.  With luck, your disposal will be back to hacking up your food bits. Note: In the comments some folks have said it can take more vigorous repetition in some cases.  All I'm saying is you may have to show that drain who's boss.
I hope that these steps help a few people fix their sink.  If you have any other questions, or these instructions helped you you're welcome to post about your victory here!
If you're interested in music, technology you can follow me on Twitter @jetsetter. If you are interested in more privacy on the internet, check out my company, Gliph.